诗歌报网站由网络诗人小鱼儿(于怀玉)于2001年5月创立,前身为"中华诗歌报",后更名为诗歌报。诗歌报网站是一个集网站、论坛、网刊、纸刊为一体的大型华语原创诗歌门户网站。

  本站现有数万注册会员,并有海量的来自全球的未注册游客,论坛每日帖子数千篇。网站开设有推荐诗人、诗歌理论、诗人随笔、出版邮购、独家专访等栏目。网站经常举办众多网下活动(朗诵会、聚会、诗会)诗歌报网站开站以来策划并主持了许多在网络诗歌界有影响力的活动和事件,,2002、2003年举办了两届"华语网络诗歌大展",主持评选每年的"华语网络诗歌发展10大功臣",每月发布"华语网络诗歌论坛风云榜",网站还创立了"高山流水杯·诗歌报年度诗人奖",自2003年开始,每年颁发该奖,诗歌报的基本宗旨是:向外界推荐好诗,让诗歌走向读者!
  本站常年开展编辑出版,《诗歌报》季刊不断出版,已出版7期刊物,《诗歌报》丛书第一辑已由新疆人民出版社于2003年正式出版,随后,第2、3、4、5辑总计58本书也已经出版,诗歌报主编的《中国网络诗人100家》于2004年出版,2005年改版为《中国网络诗歌年鉴》也已出版。
  诗歌报网站有着一个强大而团结的管理团队,从内容的更新、新闻的采集、诗人专栏的开设、月刊和网刊的制作,都是各地编辑和版主们在共同出力,协同操作。在众多版主的努力下,诗歌报论坛注册会员每天增长近百人,交流场面火爆,学术气氛浓厚,主题活动多多。影响和带动网络诗歌界一大批写手,诗歌报也真诚地帮助其他网络诗人开办网站、论坛,共同繁荣诗歌的交流,诗歌报倡导诗歌的良性交流,反对无聊的人身攻击和漫骂,允许各种诗歌表达形式的存在,包容多样化的写作尝试,保持文学的中立性,力推新人、不唯名家。
   诗歌报并和各家主流诗歌媒体以及著名民间诗刊保持了良好的合作关系,经常推荐优秀的网络诗人作品在纸张刊物上发表。
   诗歌报正在走向正规化、特色化,今后,诗歌报将以更加务实的态度,见证和推动网络诗歌的发展。
  我们的目标:做全球最好的华语诗歌网站,为网络诗歌发展做见证,为网络诗歌前行做推动。
[小贴士TIPS]您如何找到诗歌报网站?
  本站作为全球排名领先的中文诗歌网站,非常容易找到,您在google.com和百度等著名搜索引擎上搜索"诗歌",本站一直排在前列。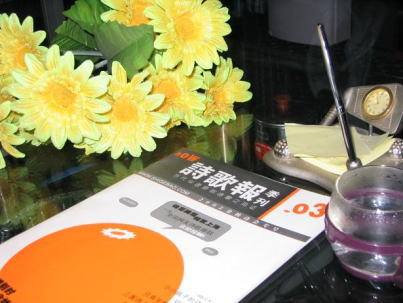 An Introduction to SHIGEBAO (Poetry News)
Website Name: Shigebao (Poetry News)
Website Address: http://www.shigebao.com

The Shigebao website was founded in May, 2001 by the internet poet Minnow. It was originally named "China Poetry News." Shigebao combines website content, forums, a webzine, and a paper journal under one Chinese-language poetry website. It now has over 20000 registered members, along with oceanic amounts of unregistered visitors. Each day app. 1700 postings are made on its forums. The website also holds many off-line events (readings, parties, poetry gatherings); it also edits the Shigebao Book Series and other publications. In 2002 it held the first "Chinese Internet Poetry Exhibition." It is now making plans to hold the Second Exhibition. The Shigebao website has also co-sponsored many poetry activities held by other organizations (for example, the People's University Poetry Festival, and the Shanghai Inter-collegiate Youth Poetry Gathering). It has presided over the judging of the "Ten Annual Contributors to Development of Chinese Internet Poetry." It has also created a roster of "Top Poetry Forum Exchanges," and has awarded the first yearly "Best Poet Award" in the website's name. Shigebao's key objectives are "introduce good poetry to a broader circle; let poetry go out to meet its readers."
The Shigebao website has a large but loose management team. From updating content and gathering news to setting up poets' pages and compiling the webzine and journal, we rely on cooperative efforts by our editors and page-masters in various places. With the large number of registered members on our forums, there is a thriving exchange of ideas; we have an impressive scholarly atmosphere, with many topics for discussion. Our site has influenced and given impetus to quite a few new writers. We open-heartedly help other internet poets set up sites and forums of their own, working together with them so that exchanges of poetry can thrive. Shigebao leads the way toward positive interchange: we oppose tedious personal attacks and invective. We allow the co-existence of poetic expression in many forms. We are open to pluralistic attempts in writing, and we preserve the non-partisan spirit of literature. We give exposure to new faces, not only to poets with established reputations.
The Shigebao website has brainstormed and administered many important activities and events in the field of internet poetry. We have also kept up good ties with mainstream poetry media and self-published poetry journals. We often recommend the best works by internet poets for publication in print journals.
Shigebao is systematizing its content and establishing its own unique character. Henceforth, Shigebao will adopt a more focused attitude, to document and promote the development of internet poetry.
Our objective: To be the best Chinese-language poetry website; to bear witness to the development of internet poetry; to pave the way for internet poetry's advancement.
Mail address: Changning Technology Bldg, Rm.709B
#201 Tianshanzhi Road
Changning District, Shanghai City
China 200051
Webmaster: Yu Huaiyu, male, born 1966 in Anhui Province.
Transfer Donations to: Zhaoshang Bank, Katong
Account location: Shanghai
Account holder: Yu Huaiyu
Account number: 6225 8002 1008 0914
or:
Jianshe Bank, Longka
Account Location: Shanghai
Account Holder: Yu Huaiyu
Account number: 4367 4212 1827 4096 856
Mailbox: webmaster@shigebao.com
Tel. 13004104915